What is equipment breakdown insurance?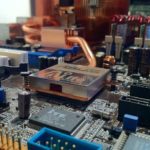 Equipment breakdown insurance covers property damage caused by a breakdown to covered equipment. Also known as "Boiler and Machinery" insurance, Equipment Breakdown Insurance can cover equipment from damage caused by fire, some forms of water damage and losses related to weather. Equipment breakdown covers many types of equipment. It protects electrical systems, air conditioning and refrigeration, mechanical equipment, modern office equipment in addition to heating systems such as boilers. That's why "Equipment Breakdown Insurance" is becoming the more commonplace term, rather than "Boiler and Machinery Insurance."
Doesn't my Commercial Property Insurance cover my equipment?
Commercial property insurance policies cover both your building and the contents inside. Commercial property insurance usually covers specific losses that can include equipment, inventory, furniture, computers and other electronics. It can also provide coverage for things outside of the building, which can include outdoor signs, fencing and landscaping. But unfortunately, your commercial property policy usually will not cover the sudden, accidental breakdown of your company's equipment which may be vital for your operations.
Equipment breakdown insurance is an additional coverage option that helps mitigate losses due to these types of issues within your company's equipment. What would happen if the heating or air conditioning system in your apartment building broke down suddenly? What if you're a baker and your electrical oven broke down without warning? Without proper insurance coverage for these situations, you could face costly repair or replacement costs and you may not be able to continue your operations right away, which could disrupt your customer or client experience and damage your reputation. The right equipment breakdown policy can help keep your costs low in these types of situations and get you back to business fast. Equipment breakdown coverage can also provide liability protection if a breakdown or accident causes damage to others, according to the NAIC. For example, if a piece of equipment explodes and damages someone else's property, equipment breakdown coverage may help protect you against the liability costs associated with that explosion.
You may assume that equipment breakdown insurance is only necessary for large manufacturers, and not crucial for small business owners. However, since all companies are becoming increasingly more reliant on electrical equipment, this is no longer the case. Nearly every small business owner relies on some piece of technical, digital, or electrical equipment for their day-to-day operations, putting them at risk for sudden or accidental equipment breakdown. Newer technology also tends to be more fragile than traditional business equipment, which has made it more susceptible to mechanical or electrical breakdowns. So if you rely on any sort of equipment for the day-to-day running of your business you should consider purchasing equipment breakdown insurance.
What does Breakdown mean?
Equipment breakdown insurance covers property damage caused by breakdown to covered equipment. This means the loss must cause damage to covered equipment that requires repair. If a machine, simply shuts down and there is no physical damage has not suffered a breakdown in terms of Equipment Breakdown Insurance. Additionally, if a machine does not require any repairs than it is not considered a "breakdown".
What Equipment is Usually Covered?
For damage to be covered by Equipment Breakdown Insurance- it must be caused by a breakdown to covered equipment. The following are usually covered under a standard Equipment Breakdown policy. Be sure to read your individual policy as it can contain various exclusions or additional coverages.
Equipment designed and build to operate under internal pressure or vacuum other than weight of contents. Examples can include: Boilers, hot water heaters, vacuum pumps, and pressurizes storage tanks.
Communication equipment and Computer Equipment. Examples can include: Computers, external hard drives, printers, telephones, fire alarm systems, security systems.
Electrical or mechanical equipment that is used in the generation, transmission or utilization of energy. Examples can include: Transformers, circuit breakers, furnace, air conditioners, generators, compressors, refrigerators, ovens, production machinery, and elevators.
Contact Fidella Insurance Agency to purchase an Equipment Breakdown Policy today.
Fidella Insurance Agency specializes in providing complete coverage for various types of commercial real estate, such as hotels, retail and office buildings as well as apartment complexes. At Fidella, we recognize that you are unique as a client, and expect direct and personalized approach when we evaluate your individual risk and liabilities to identify your specific coverage needs.