More than one million slip-and-fall accidents occur in the United States each year. They are the No. 1 reason people go to a hospital emergency room, and 17,000 people die yearly from these accidents. Liberty Mutual Insurance Company estimates that more than $61 billion per year is spent on disability claims in America with $15.57 billion, or 25.1 percent, resulting from falls. An additional $2.35 billion, or 3.8 percent is spent on slips and trips that do not result in a fall.
 Unfortunately, many of these accidents are completely preventable. 56% of slips, trips and falls were caused by environmental factors such as: slippery surfaces following rain or spills, poorly designed or maintained walkways, poor lighting on stairs and walkways and trip hazards.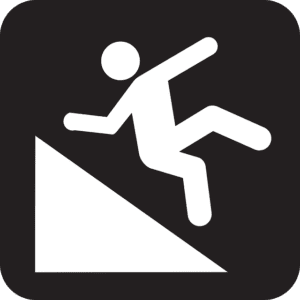 While General Liability and Commercial Package Insurance policies usually cover these types of injuries, these type of accidents can result not only in insurance claims but also in costly and time-consuming lawsuits. Liability can be a tricky determination but usually a lawsuit can be filed against a property owner, property manager and/or a cleaning contractor.
Here are 14 tips to help minimize the risk of accidents:
Replace light bulbs as soon as they burn out. Make sure that all hallways, stairways and areas are properly lit.
Clean up spills as soon as possible. Keep cleaning materials accessible to be used as soon as possible. If it cannot be cleaned immediately, mark the area with clear signage to prevent accidents.  
Have wet floor signs to put out immediately after a spill, a floor is cleaned, or wet weather is causing excess moisture.
Use moisture-absorbent and slip-resistant mats and wet floor signs to minimize accidents. Mats should be placed inside and outside entrances, at the top and bottom of stairways and escalators, at the top and bottom of the steps, inside and outside elevators, around water fountains or other water receptacles, on hard walkways that connect with carpeted areas, in restrooms, and in other areas where tripping or slipping can be a reasonable fear.
Keep hallways and walkways clear of debris clutter and obstacles. Insist that all cleaning and building materials be stored properly when they are not in use. In a multi-family residence, do not allow tenants to keep items except in designated areas.
Keep areas clean. Sweep floors regularly and remove debris immediately. Keep trash receptacles in public areas to safely dispose of trash and litter.
Encourage workers to wear non-slip shoes.
Properly light basements and stairways and any other naturally dark areas.
Have a well-lit entryway at all times, especially at night.
Keep filing cabinets, desk drawers, and electrical cabinets shut when not in use.
Install proper handrails by all stairways.
Keep ice salt ready and properly salt pavements and sidewalks to reduce the change of ice in freezing conditions.
Power, internet and phone cords can be a hazard. Try to keep cables behind or against walls or under carpets. Install power outlets, internet connections, phone jacks in places where there is no need to have wires and cables running across walkways.
Maintain flooring. Make sure there are no cracks or holes in building flooring or pavement. Repair and place warning signs when repairs may take time.